Carl Bugenhagen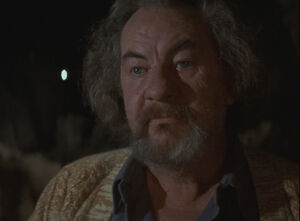 Bugenhagen in Tel Megiddo in The Omen (1976).
Age:
Unspecified (Late 50s - Late 60s)
Carl Bugenhagen was an exorcist and an archaeologist located in Tel Megiddo. He was buried alive.
Biography
Edit
Carl Bugenhagen was an exorcist. He was also an archaeologist located in Tel Megiddo, where he excavated the Daggers of Megiddo at some point.
When Robert Thorn and Keith Jennings come to Bugenhagen looking for a way to kill the Antichrist, Bugenhagen gives Robert the seven Daggers of Megiddo and tells him how to use them to permanently destroy the Antichrist. He also warns Robert not to make any mistake, and that if his son Damien is indeed the Antichrist, then he will bear a birthmark shaped like a sequence of three sixes.
After Robert dies trying to kill Damien, a priest has the Daggers of Megiddo sent back to Bugenhagen in Israel. A week after Robert's death, when Yigael's Wall is excavated in the ruins of Megiddo, Bugenhagen sees that its depiction of the Antichrist is identical to Damien Thorn; and realizes that Damien is indeed the Antichrist.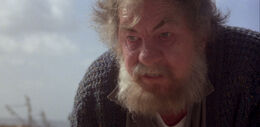 Bugenhagen goes to his old friend Michael Morgan with a box containing the Daggers of Megiddo and a note explaining that Damien is the Son of Satan. When Morgan refuses to believe that Damien is the Antichrist, Bugenhagen takes him into the ruins of Megiddo and shows him Yigael's Wall. Shortly after, the ruins begin to collapse, sealing the exit and slowly burying Morgan and Bugenhagen alive. As the two are buried, Bugenhagen yells out that though evil may seem triumphant, good will prevail in the end.
After Bugenhagen died, his corpse remained buried in the ruins of Megiddo until it was unearthed in the ruins seven years after his death, by which time it had decomposed to a skeleton.
Relationships
Edit
Morgan and Bugenhagen were old friends. Bugenhagen seemed to be somewhat infuriated when Morgan refused to believe that Damien was the Antichrist, though this may have been more due to the gravity of the situation.
Brennan and Bugenhagen knew one another, since Brennan told him all the story and details of the birth of the Antichrist, and Bugenhagen was slightly saddened when he discovered that Brennan was dead.
Bugenhagen is the only character to appear in more than one of the original Omen films and be portrayed by the same actor.