Carl Bugenhagen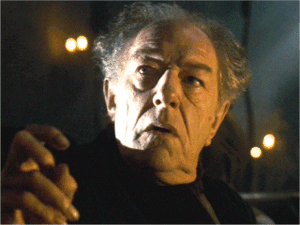 Bugenhagen in Tel Megiddo in The Omen (2006).
Age:
Unspecified (Early 60s - Mid 70s)
Carl Bugenhagen is a disturbed archaeologist located in Tel Megiddo, who originally possessed the Daggers of Megiddo.
Biography
Carl Bugenhagen was a mentally disturbed archaeologist located in the ruins of Tel Megiddo. At some point, he excavated the seven Daggers of Megiddo in the ruins.
When Robert Thorn and Keith Jennings come to Bugenhagen looking for a way to kill the Antichrist, Bugenhagen gives them the Daggers of Megiddo to kill the Antichrist with. When Robert becomes skeptical that his son Damien is really the Antichrist, Bugenhagen instructs him to search Damien's body for a 666-shaped birthmark, which will confirm that he is the Antichrist.
Robert then falls into denial that Damien is the Antichrist and leaves, while Keith takes the Daggers and follows him.