Cerveteri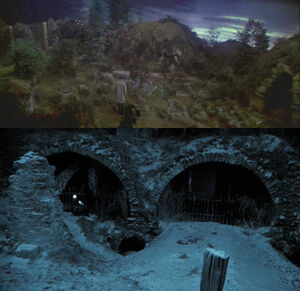 The Cerveteri cemetary in The Omen (1976) (top) and The Omen (2006) (bottom).
Cerveteri is a town and comune of the northern Lazio, in the province of Rome. Originally known as Caere (also Caisra and Cisra in Etruscan), it is famous for a number of Etruscan necropolis that include some of the best Etruscan tombs in the world.
After Damien Thorn's biological mother died in childbirth, and Robert and Katherine Thorn's newborn son was murdered, the two were buried in an old ruined cemetary in Cerveteri (the Thorn child as the son of Damien's mother).
Five years after the deaths of the Thorn child and Damien's mother, Robert Thorn and Keith Jennings travel to the Cerveteri cemetary and open their graves; discovering from the corpses that Damien was born of a jackal, and Robert's child was murdered rather than stillborn.
A pack of Hellhounds then arrive at the cemetary and attack and chase Robert and Jennings, but the two manage to escape.