Joan Hart

Joan looks for Damien in Damien - Omen II.
Age:
Unspecified (Early 40s - Early 50s)
Joan Hart was a reporter who tried to warn Richard Thorn that Damien was the Antichrist. She was indirectly killed by the Raven.
Biography
Edit
Joan was a colleague of Keith Jennings before he was decapitated in Israel, and also knew of Carl Bugenhagen. Approximately seven years later, when Thorn Industries unearthed Bugenhagen's skeleton and Yigael's Wall from the ruins of Tel Megiddo, Joan noticed that the Wall's depiction of the Antichrist was very similar to Damien Thorn. Joan eventually realized from this among other things that Damien is the Antichrist.
Joan is introduced to Damien's uncle Richard in Chicago, through Dr. Charles Warren, and tries to warn him about Damien. However, when she mentions Robert's death, Richard has her removed from his car. Joan then goes to Dr. Warren and Richard's wife Ann at the Thorn Museum to warn Ann instead.
However, when Warren becomes furious with Joan for angering Richard, Joan, before she can warn Ann, abruptly becomes unsure of whether or not Damien is indeed identical to the depiction on Yigael's Wall. Joan then leaves and travels to
Davidson Military Academy
to see whether or not Damien is indeed identical. At a rugby game at the academy, when Joan sees Damien's face and that it is identical to the Antichrist's face on Yigael's Wall, she drives off in terror.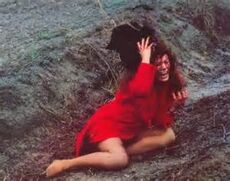 While Joan is driving on a deserted highway, her car breaks down. When she leaves the car to find help, the Raven appears and attacks her, pecking her eyes out and leaving her blind and helpless on the side of the road. When Joan hears a truck coming, she wanders onto the road to try and signal it for help, but gets run over and killed.
Relationships
Edit
Joan and Charles apparently knew each other. Though they appeared to normally be on good terms, Charles became furious with Joan after she angered Richard.
Richard was initially willing to hear what Joan had to say, but after he heard what it was, he became more angry and short-tempered with her.