Brother Matteus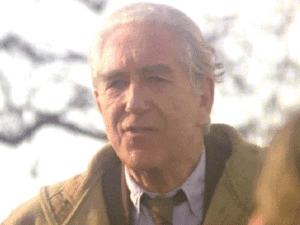 Matteus preaching in The Final Conflict.
Age:
Unspecified (Early 70s - Early 80s)
Brother Matteus was part of a group of priests from Subiaco who attempted to kill Damien Thorn.
Biography
Matteus is one of six priests under Father De Carlo at the Monastery of San Benedetto in Subiaco.
When the Daggers of Megiddo arrive at the Monastery of San Benedetto, De Carlo divides them amongst himself and his six fellow priests, including Matteus. The seven priests then travel to England to try and kill Damien in order to ensure the Second Coming of Christ.
The group station themselves at a night refuge. On Sunday, Matteus preaches in a park to crowds of Londoners, claiming that a trinity of stars in the Cassiopeia Constellation are about to converge to signal Christ's Second Coming; while Paulo searches among the crowd for Damien but fails to kill him.
That night, when De Carlo decides that they must strike Damien offguard, Benito tries to kill Damien while he is being interviewed; but is killed in this failed attempt. The next day, following the Cassiopeia alignment which signalled the Second Coming, Matteus spends all day and night waiting outside the American Embassy for Damien to follow him.
Matteus spends the rest of the next day luring Damien across the countryside to an old ruin, where Paulo and Martin are waiting to ambush Damien. Matteus reaches the ruin as night falls, but Damien's power causes Martin and Paulo to see Matteus as Damien; and thus the two attack Matteus instead, stabbing and killing him.