Monastery of San Benedetto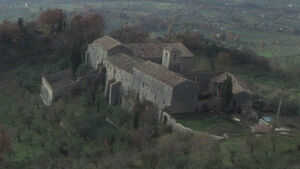 The Monastery in The Omen (1976).
The
Monastery of San Benedetto
is a community of Benedictine monks in full communion with the Roman Catholic Church, faithful to the magisterium, dedicated to serving the Church through the guidance of the teachings of Saint Benedict, loyal to Pope Benedict XVI and in harmony with the local diocesan ordinary, Renato Boccardo.
Robert Thorn and Keith Jennings go to the Monastery to find Father Spiletto and discover from him where Damien Thorn's biological mother is. After Spiletto tells them that Damien's mother is in Cerveteri, Robert and Jennings leave the Monastery for Cerveteri.
Following Robert and Jennings' visit to the Monastery, a priest there, Father
De Carlo
, watched Damien grow up and rise to power over the following twenty-seven years and realized that Damien is the
Antichrist
.

After the
Daggers of Megiddo
arrive at the Monastery of San Benedetto, De Carlo and six priests under him leave with the Daggers and travel to
England
to try and kill Damien.