Unknown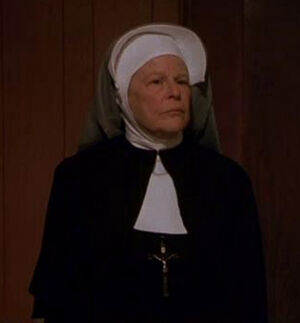 Mother Superior argues with Yvonne in Omen IV: The Awakening.
Age:
Unspecified (Mid 70s - Mid 80s)
The Mother Superior of St. Francis Orphanage died of a heart attack on the night her orphanage gave Delia York to the Yorks.
Biography
When the baby girl Delia was given to St. Francis Orphanage, Mother Superior, aware that Delia is the granddaughter of Satan, has Sister Yvonne give the baby Delia away to Gene and Karen York; rather than kill Delia.
The night afterwards, when Yvonne confronts the Mother Superior about a lunar eclipse which coincides with Delia's adoption, the Mother punishes Yvonne by striking her repeatedly; until during the beating, the Mother Superior suffers a heart attack and dies.
Relationships
The Mother Superior initially comforted Yvonne after they gave Delia to the Yorks, but when Yvonne rudely confronted the Mother, the latter beat and struck Yvonne repeatedly.