We're Getting Mutants in the MCU - The Loop
Play Sound
Mrs. Baylock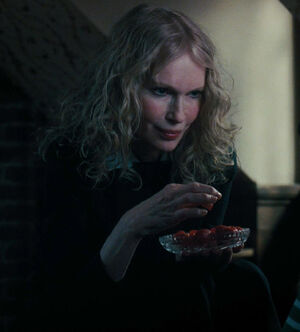 Mrs. Baylock feeding Damien in The Omen (2006).
Age:
Unspecified (Late 40s - Mid 50s)
Mrs. Baylock was a disciple of Hell who became Damien Thorn's nanny to protect him. She was killed by Robert.
Biography
Mrs. Baylock was apparently one of the apostates of Satan who knew that Damien Thorn was the Antichrist. When Damien's nanny Holly hanged herself, Mrs. Baylock attempted to replace her as Damien's nanny so as to protect Damien.
The day after Holly's death, Mrs. Baylock visits Robert and Katherine and successfully gets the job as Damien's new nanny. The day after Mrs. Baylock is hired, when Kate decides to take Damien to church with her and Robert, Mrs. Baylock (knowing that Damien will fear the church due to his status as the Antichrist) tries to convince Kate that it is a bad idea. However, Kate curtly orders her to get Damien ready for church anyway.
That night, when Mrs. Baylock brings a Hellhound into the house as a watchdog for Damien, Robert curtly reminds her that he will decide whether or not Damien needs a dog, and orders her to have it removed in the morning.
One day, while Robert is away at Dr. Greer's, Mrs. Baylock is feeding Damien when he decides to ride through the hallway on his scooter.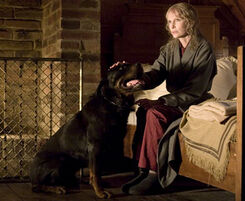 Damien rides his scooter into Kate, causing her to fall from the third floor. Kate is then hospitalized. The next day, Robert travels to Rome to investigate Damien's origins, leaving Damien in Mrs. Baylock's care in the meantime.
One day, Damien and Mrs. Baylock visit Kate in hospital, and while Damien waits outside, Mrs. Baylock kills Kate by injecting air from an empty syringe into Kate's IV; inducing an air embolism and killing her. The night after, when Robert returns to London with the Daggers of Megiddo and finds Damien's 666 birthmark while the latter is asleep, Mrs. Baylock attacks him to protect Damien. However, Robert manages to stun her by kicking her in the face.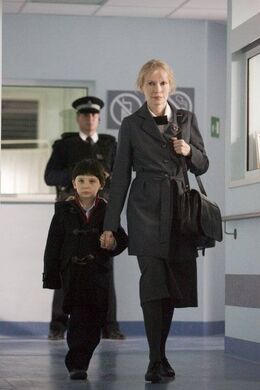 Once Mrs. Baylock recovers, she follows Robert and Damien out into the Thorn estate's grounds, where she attempts to break into Robert's car to save Damien. However, Robert runs her over with the car, killing her.
Relationships
Robert scolded Mrs. Baylock for making decisions involving Damien without his or Kathy's consent.
Like Robert, Kate was angered somewhat when Mrs. Baylock made decisions involving Damien without her permission.
Damien and Mrs. Baylock apparently got on very well, and Mrs. Baylock was shown to be caring and even nearly motherly to Damien. She also sacrificed her life trying to protect him.
Trivia
Mia Farrow

, who portrayed Mrs. Baylock, also starred in Rosemary's Baby; a film which also focuses on a child who is revealed to be the Antichrist. Farrow played Rosemary.