Noah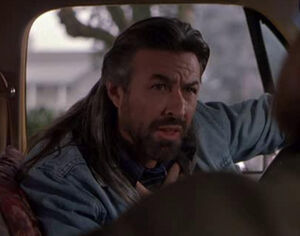 Noah speaking with Jo in Omen IV: The Awakening.
Age:
Unspecified (Mid 30s - Late 40s)
Noah is a psychic and was a friend of Jo Thueson.
Biography
Edit
When Jo becomes Delia York's new nanny and grows suspicious of the girl, she goes to Noah about it. Noah discovers that Delia's aura has a dark and negative influence on those around her, and decides to have Jo take Delia to a psychic fair where Noah can take a kirlian photograph of Delia.
At the fair the next day, when Noah photographs Delia, he finds to his horror that Delia's aura is unusually powerful, dark and infectious. Delia then causes the fair to burn down. According to Earl Knight, after Jo's death, Noah fled in horror.
Relationships
Edit
When Jo and Noah discovered Delia's dark and powerful aura, they began to argue over whether Delia was dangerous or was just a little girl in distress.