Jurassic World: Dominion Dominates Fandom Wikis - The Loop
Play Sound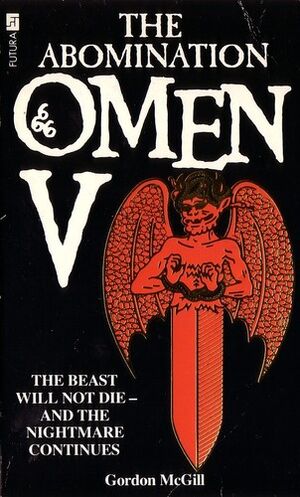 Omen V: The Abomination (also known as The Abomination: Omen V) is a 1985 novel published by Gordon McGill. It continues on from McGill's previous novel, Omen IV: Armageddon 2000.
Summary
"Armageddon has come and gone. The Middle East is a desolation. Tel Aviv, Jerusalem, Damascus, Beirut are radioactive slag. As the poisoned clouds drift west, anarchy and random savagery precede them. Mankind prepares sullenly for extinction.
At the heart of the Thorn Corporation, a terror now largely stripped of disguise: Damien Thorn. His mother is a mystery, but his Father... For those who have always believed in the force of Evil - and rejoiced in their faith - a new Master is preparing a summons.
But mankind can still be saved. Jack Mason, determined to expose the truth about the Thorn empire, is closing in on the boy Damien. But only if he can accept the true significance of what he finds will the Devil's plans be thwarted and hope restored.
And if he fails, Man's own instruments of destruction will destroy the world..."