Subiaco, Lazio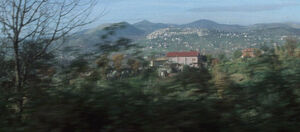 A glimpse of Subiaco in The Omen (1976).
Subiaco is a town and comune in the Province of Rome, in Lazio, Italy, forty kilometres (25 mi) from Tivoli alongside the river Aniene. It is mainly renowned as a tourist and religious resort for its sacred grotto (Sacro Speco), in the St. Benedict's Abbey, and the other Abbey of St. Scholastica. It is also famous as the first city in Italy where books were printed, in the 15th century.
While in Italy investigating Damien Thorn's origins, Robert Thorn and Keith Jennings travel to Subiaco and visit Father Spiletto at the Monastery of San Benedetto. After discovering from Spiletto that Damien's mother is buried in Cerveteri, Robert and Jennings leave and travel to there.
After the Daggers of Megiddo arrive at the Monastery of San Benedetto after passing from one owner to another, Father De Carlo and six priests under him leave Subiaco and travel to England to try and kill Damien Thorn.