We're Getting Mutants in the MCU - The Loop
Play Sound
Tel Megiddo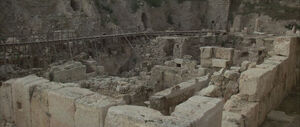 The ruins of Megiddo in The Omen (1976).
Tel Megiddo, better known as just Megiddo, is a tel in Israel near Kibbutz Megiddo, about 30km south-east of Haifa. It is known for its historical, geographical, and theological importance, especially under its Greek name Armageddon.
In ancient times Megiddo was an important city-state. Excavations have unearthed twenty-six layers of ruins, indicating a long period of settlement. Megiddo is strategically located at the head of a pass through the Carmel Ridge overlooking the Jezreel Valley from the west.
History
Carl Bugenhagen mentioned in The Omen (1976) that Megiddo was where Christianity originally began. It also appeared in Damien - Omen II that when Yigael went insane and painted images of Damien Thorn, the future Antichrist, onto the wall of an underground chamber, that chamber was in Megiddo.
Robert Thorn and Keith Jennings travel to Tel Megiddo searching for a way to kill Damien. There, Bugenhagen gives them the seven Daggers of Megiddo and gives them instructions on how to use them.
A week after Yigael's Wall is excavated in what appears to be Megiddo, Bugenhagen takes Michael Morgan down into the ruins, and shows him the Wall to convince him that Damien Thorn is indeed the Antichrist. The ruins then collapse, burying Michael and Bugenhagen alive along with Yigael's Wall.
Seven years later, Thorn Industries excavated Bugenhagen's skeleton, two pieces of Yigael's Wall, and an ancient statue of the Whore of Babylon from the ruin.