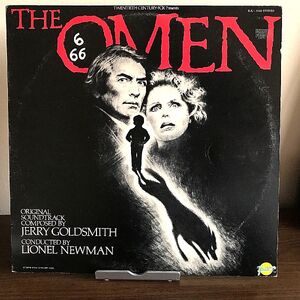 There have been multiple vinyl and CD releases for the music of The Omen.
Original Soundtrack Recording (1976)
Edit
Released on Tattoo Records in 1976 (manufactured and distributed by RCA Records), the first vinyl album contained twelve tracks. The following is the track list as it appeared on the vinyl disc. Note that the tracks on side-B are designated with "Goldsmith" in parentheses. This may be an attempt at uniformity since the first track is the song, "The Piper Dreams" sung by Carol Goldsmith but designated "Heather Goldsmith" in parentheses (her middle name).
SIDE A
1 Ave Satani 2:32
2 The New Ambassador 2:33
3 Killer's Storm 2:51
4 A Sad Message 1:42
5 The Demise Of Mrs. Baylock 2:52
6 Don't Let Him 2:48

SIDE B
1 The Piper Dreams (Heather Goldsmith) 2:39
2 The Fall (Goldsmith) 3:42
3 Safari Park (Goldsmith) 2:04
4 The Dog's Attack (Goldsmith) 5:50
5 The Homecoming (Goldsmith) 2:43
6 The Altar (Goldsmith) 2:00

Original Motion Picture Soundtrack (1990)
Edit
Released on compact disc and cassette tape by Varèse Sarabande in 1990, this album features the same tracks as the original vinyl. There are several print changes in the track list appearing on the card back; track times are now in parentheses but the "Goldsmith" parenthetical is gone; one second has been added to "Killer's Storm;" "The Piper Dreams" now has an asterisk (*) denoting music composed by Jerry Goldsmith, lyrics and sung by Carol Heather (now using her first and middle names but dropping the "Goldsmith."
1. Ave Satani (2:32)
2. The New Ambassador (2:33)
3. Killer's Storm (2:52)
4. A Sad Message (1:42)
5. The Demise Of Mrs. Baylock (2:52)
6. Don't Let Him (2:48)
7. The Piper Dreams* (2:39)
8. The Fall (3:42)
9. Safari Park (2:04)
10. The Dog's Attack (5:50)
11. The Homecoming (2:43)
12. The Altar (2:00)

The Deluxe Edition (2001)
Edit
In 2001 Varèse Sarabande released The Deluxe Edition on compact disc. In addition to the previous 12 tracks it featured 8 new tracks marked with asterisks denoting their "World Premiere Release."
1. Ave Satani (2:31)
2. One This Night (2:33)*
3. The New Ambassador (2:35)
4. Where Is He? (:54)*
5. I Was There (2:25)*
6. Broken Vows (2:09)*
7. Safari Park (3:22)
8. A Doctor, Please (1:42)
9. The Killer Storm (2:53)
10. The Fall (3:43)
11. Don't Let Him (2:46)
12. The Day He Died (2:13)*
13. The Dogs Attack (5:52)
14. A Sad Message (1:42)
15. Beheaded (1:45)*
16. The Bed (1:06)
17. 666 (:44)*
18. The Demise of Mrs. Baylock (2:53)
19. That Alter (2:02)
20. The Piper Dreams (2:39)**
text forthcoming
40th Anniversary Edition
Edit
text forthcoming
Cinefantastique
Edit
text forthcoming
Limited White Vinyl
Edit
text forthcoming